North East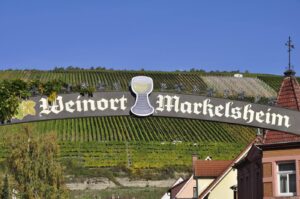 A3 – to junction Würzburg-Heidingsfeld – B19 to Igersheim, there turn left onto "Romantische Strasse" (direction Rothenburg), after 2 km turn right into the wine town of Markelsheim.
In Markelsheim drive over the Tauberbrücke to the market square – there turn right into the Scheuertorstrasse – continue straight for approx. 500 meters (past the Weingärtnergenossenschaft) – house number 25 on the left = Hotelpension Gästehaus Birgit (white-blue house)
Another possibility: Follow the green hotel signs in Markelsheim
Southeast
A7 – to the Feuchtwangen / Crailsheim motorway junction – A6 to the Crailsheim junction – B290 to Wildpark (just before Bad Mergentheim), turn right there, it is about 2 km to Markelsheim
In Markelsheim, turn left from Leichtenstrasse (at the Weingärtnergenossenschaft) into Schünschtorstrasse – continue straight for about 100 meters – house number 25 on the left = Hotelpension Gästehaus Birgit (white-blue house)
Another possibility: Follow the green hotel signs in Markelsheim
or:
A7 to junction Rothenburg o.d. Tauber – on the "Romantic Road" to Markelsheim
In Markelsheim drive over the Tauberbrücke to the market square – there turn right into the Scheuertorstrasse – drive approx. 500 meters straight ahead (past the Weingärtnergenossenschaft) – house number 25 = Hotelpension Gästehaus Birgit (white-blue house)
Another possibility: Follow the green hotel signs in Markelsheim
South
A81 to the Boxberg junction – via the motorway slip road to Bad Mergentheim, turn right at the city entrance (petrol station) onto the B290, go straight ahead for approx. 1.5 km, turn left at the Wildpark, and it is another 2 km to Markelsheim
In Markelsheim, turn left from Leichtenstrasse (at the Weingärtnergenossenschaft) into Schünschtorstrasse – continue straight for about 100 meters – house number 25 on the left = Hotelpension Gästehaus Birgit (white-blue house)
Another possibility: Follow the green hotel signs in Markelsheim
West
A6 to the Weinsberg motorway junction – A81 motorway towards Würzburg to the Boxberg junction – via the motorway slip road to Bad Mergentheim, turn right at the entrance to the city (petrol station) onto the B290, go straight ahead for about 1.5 km, turn left at the Wildpark, after Markelsheim 2 km
In Markelsheim, turn left from Leichtenstrasse (at the Weingärtnergenossenschaft) into Schünschtorstrasse – continue straight for about 100 meters – house number 25 on the left = Hotelpension Gästehaus Birgit (white-blue house)
Another possibility: Follow the green hotel signs in Markelsheim
Northwest
A3 to Autobahn triangle Würzburg West – A81 to junction Tauberbischofsheim – B290 to Bad Mergentheim – there approx. 1.5 km further on B290 to Wildpark (signposted) – turn left at Wildpark – after Markelsheim it is another 2 km
In Markelsheim, turn left from Leichtenstrasse (at the Weingärtnergenossenschaft) into Schünschtorstrasse – continue straight for about 100 meters – house number 25 on the left = Hotelpension Gästehaus Birgit (white-blue house)
Another possibility: Follow the green hotel signs in Markelsheim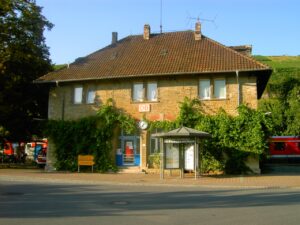 Markelsheim has its own train station, train line: Wertheim-Crailsheim
From the Würzburg ICE train station, take the RE / RB to Lauda, change there in the direction of Bad Mergentheim – Igersheim – Markelsheim
Bicycle transport on the Wertheim-Crailsheim route is free!
Timetable information under www.bahn.de
Arrival by bike or on foot along the cycle path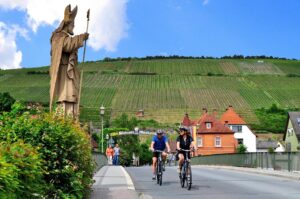 Coming from Wertheim / Bad Mergentheim / Igersheim:
Our guest house is on the right-hand side of the cycle path and cannot be missed at all.
From the direction of Rothenburg / Weikersheim / Elpersheim:
In Markelsheim, continue following the cycle path signs over the Tauberbrücke, then straight ahead to the market square. There you turn right and drive straight ahead on Scheuertorstraße (past the Weingärtnergenossenschaft), on the left side, house number 25, you will see the guest house.